Miley Cyrus was making headlines for all the wrong reasons. The former Hannah Montana star was sliding downhill fast in a series of provocative, weird, and unexpected behaviors. As a result, her record sales were increasingly low, her engagement to Liam Hemsworth was called off, and her fans were turning their backs on her.
Just as quickly, Cyrus began to turn things around, but it all began with her landing the role as coach on NBC's The Voice.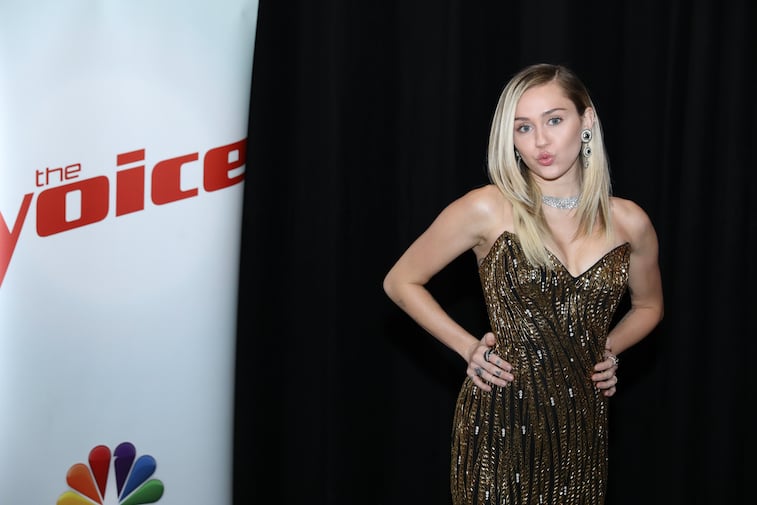 Miley's career was a literal 'Wrecking Ball'
In an effort to make sure she was "memorable," Miley took her public persona to extremes. She was a force to be reckoned with.
Her music videos released with her songs were risqué and controversial. Her behaviors included graphic and sexual groping during performances, and her trademark tongue hanging out of her mouth during photo ops.
Cyrus called off her engagement
In 2013 Miley had a series of unfortunate events, including some public twerking. Most notably though, she and long-time boyfriend Liam Hemsworth called off their engagement after four years of dating.
Rumors circulated that Miley had been unfaithful to Liam, and although the two were not very vocal about their breakup it seemed to be the end for the couple.
Hemsworth discussed the breakup openly, citing that they simply were headed in differing directions, as the reason for their relationship falling apart.
"Of course it was hard, man," he explained to GQ Australia, "But at the time we were going in different directions and it's just what needed to happen…We were both super young and it was a good decision at the time – we both needed that."
Cyrus' goals have changed
When the dust settled on Cyrus' 2013 shenanigans the star decided that she needed to reinvent herself. Doing so, she has also focused on goals that are more important to her than simply standing out from the crowd.
Her newest music is part of a series of work entitled "She is Coming" and seems to focus more heavily on topic and concerns that Miley cares about. For instance, her new music video "Mother's Daughter" features messages about sexuality, gender, and inclusion.
It is empowering and positive toward gender identity, freedom, the idea that sexual consent and control over one's body is important.
'The Voice' is what saved Cyrus' career
In Season 11 of The Voice, Cyrus joined the show as a coach. This might be one of the best moves she made to move her career in a positive direction. While her recent record sales were plummeting, she was gaining back her fan base from the red, swivel seat of the judges panel.
Veteran judge Blake Shelton noted that her presence on the show was an important change.
"I think she'll probably work hard at this because she's definitely someone who thinks, obviously, thinks outside the box and so I know she's going to bring her own elements, as far as mentoring, into the show. I think The Voice needs it, I think we need her."
The show was good for Cyrus, too, and may have contributed to an upswing in the singer's career.
Cyrus decided she needed a new image
Last year at this time, Cyrus took extreme measures on her Instagram account. After deleting thousands of photos, the star has been slow to upload new ones. It looks like she is taking more time to properly curate her new image and choose photos that will promote her music, her causes, and her career in a positive light.
While she hasn't shunned all of the fashion, glamour and nudity that donned her social accounts in her younger years, the new Cyrus is decidedly more mature and focused.